© 1998-2003,
J-E. M. Heydecker. All contents strictly reserved.

Home > Travels > Africa...
Exuma Bahamas II
1998
We left for Georgetown, Exuma, one of the Family Islands of the Bahamas, on New Year's Eve. The flights were uneventful, and at 6:00 pm, we were picked up by Peter, the Canadian real estate agent working for the property. As we drove to our house, he proceeded to discuss the benefits of living in the Bahamas, and why someone should invest in Flamingo Bay.
"Relax, Peter," I said, "we've already bought the property." At this point, I already knew he and I were not going to get along. He continued to discuss building projects in town, while Mum and I tried to steer him toward a discussion of what had been accomplished at Flamingo Bay. We were not very successful. Actually, after about fifteen minutes, both Mum and I stopped asking questions because we realized he was a total moron and further attempts to get information would prove fruitless.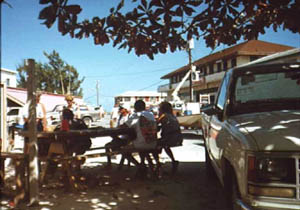 Georgetown looked the same. The big church with the blue shutters had been repainted, with a slightly darker colour blue on the shutters. All the places we had visited in the past looked the same. The Peace and Plenty Beach Inn look freshly painted a more brilliant peach colour than before. In a few minutes, we would be making the left turn into Flamingo Bay. We already felt calmer and more relaxed, anticipating the pleasures we looked forward to over the next ten days.

Mum selected the same suite we'd had on our last visit, which had been completely redone due to the hurricane last year. Apparently, the windows had all blown out of both floors and everything had been decimated. New berber carpets had been installed and the new rattan furniture made the room look even more spacious than before. Three sides of the room had floor to ceiling jalousie windows giving us a breathtaking view of the harbour, Crab Cay, and our own marina harbour (soon to be built). The ocean was a deep aqua, the sky a deep azure blue. The wind had begun to pick up since we left Nassau, and now the wind was blowing at a furious rate. The palms were leaning nearly 20 degrees, from the constant pounding of the wind.
"It looks like rain, Mum," I said. We quickly put away our luggage and raced back out to the kitchen to catch up with Neely, the handyman, and to begin the cocktail hour. The house had been updated a bit, but not much had changed. We met Sara Chereskin, an independent television producer, whose latest project was for HBO.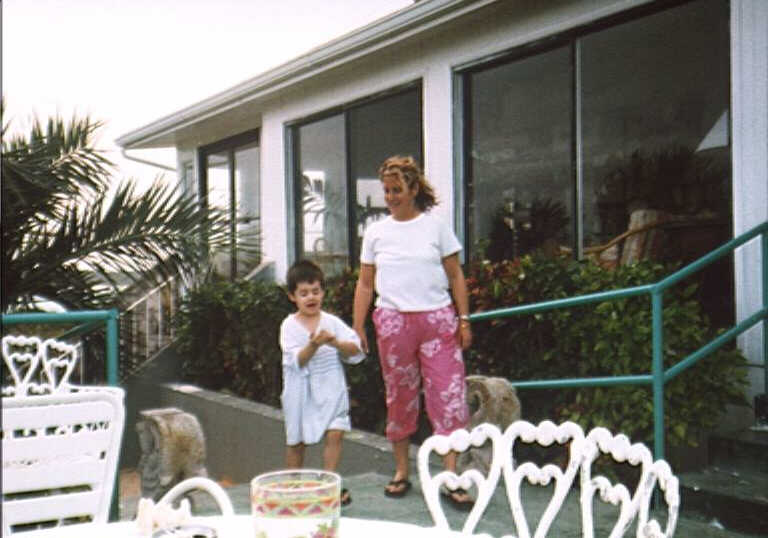 She is a really nice person, about my age, living in New York. Her most appealing feature, especially for Will, my son, was her long, curly blonde hair. Bright and articulate, she was a highlight of our trip. Peter came down, explaining that his wife "Sky" (apparently her name is Arlene) was ill and wouldn't be able to come to dinner with us. We asked Sara to have dinner with us. Unfortunately, another of Peter's social climbing entourage, Shelly, came with us as well.
Dinner was at the Peace and Plenty Hotel was sublime. Although we waited forever for dinner (due to our companion, Peter, not the hotel), it was wonderful to be back at a familiar place that welcomed us with open arms; it was like reuniting with an old friend. Mum had the (cold) veal piccata, Will had shrimp scampi (absolutely fabulous), and I had the Bahamian Grouper (another big hit). Shelly kept getting up because Mum was smoking and sat in the lobby like a martyr. She told us she was allergic, but I proved later in the week that she was lying. Granted, I don't like people smoking in a restaurant, but if someone lights up, I don't make a spectacle out of myself. The conversation was rather dull due to Peter's babble and Shelly's prattling... I couldn't wait to get back to the house. I was tired and ready for bed. I had already read five magazines that day and had started on the book Mark had given me for Christmas. Once we got home, Will was definitely ready for bed as well. He crashed in seconds once his head hit the pillow.
New Year's Day, Will and I went straight down to the beach as soon as we got up. It was still frighteningly windy. We found coconuts everywhere on the beach. The waves were huge. There were conch shells stuck in the walls around our private beach. We picked up all of the empty ones and placed them on the terrace to dry out. The water felt cold at first, but when I remembered that the temperature at home was only 20 degrees, I could not help thinking I was a weeny for saying that the water felt cold. We went in up to our waists but with the wind, it was too much. We went back up to the house and spent most of our time reading, while Will played computer games. Sara told us she was extending her trip through the weekend, which made us very happy. I asked her to play scrabble as cocktail hour began, and while we played, the wind blew a window into the Terrace Room. It was loud, and I saw it coming before anyone...I had stood up as I saw the window bulge, but was not in time to save it. In the meantime, Peter and his wife prepared dinner...I will never again eat food prepared by a woman whose name of the week is Sky. I finished the book by the end of the evening.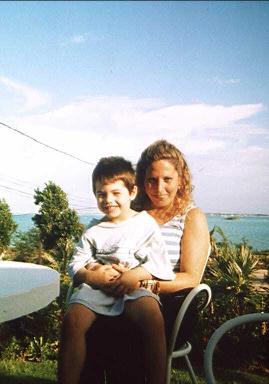 January 2nd, we went down to the beach again in the morning with Sara. I had told her about the conch shells and we selected the finest one for her to take home to New York. She and Will picked up two coconuts and asked the cook at the terrace if he could open them up. He pulled out a huge, very sharp machete and proceeded to whack the crap out of them until they were perfectly extracted. We went down onto the beach and went swimming. At one point, I watched Will put out his hand tentatively, and as Sara took it, a smile beamed across Will's face.

He looked so ecstatically happy, my heart soared to see him feeling so good about himself.
Later that afternoon, Pedro came by; we were so glad to see him again.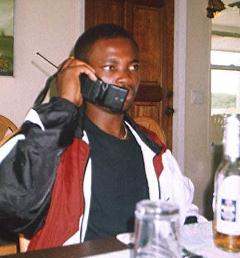 We went to the Peace and Plenty Beach Inn for dinner. Golf and his girlfriend Kathy met us there. Golf's sister, the cook, prepared a special steamed conch with green peas and rice for an appetizer (out of this world). Will and I had the Bahamian lobster, while Mum had the grouper. Everything, from the service to the quality of the food was superb. With good company, the dinner was a great experience.
Saturday, January 3rd, Sara took Will down to the tennis courts to squeegee all the water off the surface. Will found snails and other fauna among the grasses. He has become enamoured with the idea of searching for little animals since I found a toad on the chairs out on the veranda this morning while having our coffee. Pedro picked us up and we took a drive around the island. We visited the other property Howard is working on, Oceania Heights, and drove past the Lang's house, a newly built, unimpressive, Bermuda-roofed box. We also visited the Shark Lady, Gloria Patience, a person both Will and I found impressive.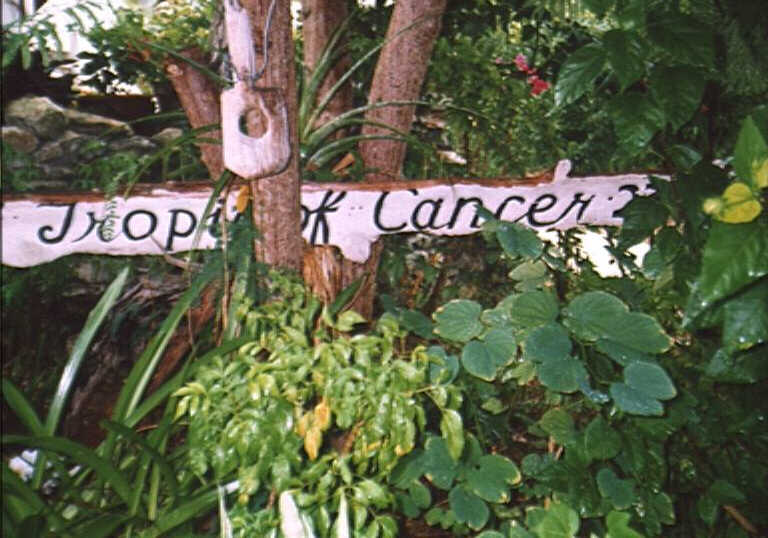 She is a crusty old woman in her 70's who fished with Ernest Hemingway in her youth and used to run the regattas with four other women, bare breasted. I could have listened to her talk about her life for hours. I purchased three tiger shark teeth, one of which I promptly put on a string for Will to wear. (He showed it to anyone who would listen to him.) We also took the boat out with Golf. I convinced Sara to stop waiting for the rain to stop so she could play tennis, and come with us. We took off in the boat, Baby Sarah, 30- feet long with twin screws, at high speed. We jumped waves, raced under low bridges, and went really, really fast. We ended up in the ocean, rather than staying in the harbour, and hopped waves, getting dumped with seawater. The wind was still blasting away, nearly gale-force, so the waves were higher than even Golf expected. I had to hold onto Will in the back of the boat. Will was very scared. I was a bit frightened myself because there was nothing to hang onto. I told him how brave he was, and how proud I was of him--he was smiling and very pleased with himself.
When we got home (since it had been rainy and windy for three days, and Will needed TV) Pedro went upstairs in search of a working satellite box, which was in Peter's room (Peter told us none of them worked.). He fixed it up in the living room, which really pissed off Peter, "Sky", and Shelley. Hee, hee, hee...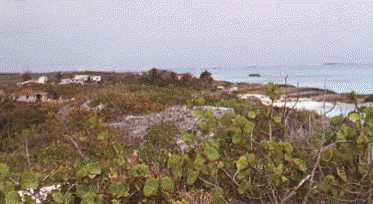 On Monday, the weather broke and we finally managed to boat over to Stocking Island. We showed up early, around 10:30 in the morning, and no one was around. I slathered Will with sunblock so he didn't burn, but of course, I did. We built sandcastles and ate ham and cheese sandwiches, and Will found a palm frond which he used as a broom.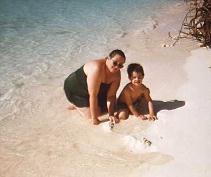 He pretended to be a Tiger Shark in the water, and we couldn't talk him out of the sea. It was great fun. We left the island as the shuttle from the Peace and Plenty was arriving, with Peter, "Sky", and the Germans he was trying to sell property to...Good timing, I'd say. When we got home, Will collapsed onto his pillow. I made a valiant effort to read my other book, but I fell asleep in my chair. When I awoke, I took a long bath and dressed for dinner.
Pedro picked us up and we went to the Edgewater for dinner and "Rake and Scrape". Mum had turtle steak, while Will and I got the Grouper fingers...Pedro had the Jerk chicken that was so good, Mum and I got a second order later. As the band warmed up, Will was very interested in the drums. I told him it was okay to go over, but he hesitated. The drummer waved him over, and even then, it took him about five minutes of encouragement to walk all the way over. Finally, he sat down at the drum and tentatively touched it. The drummer did a little riff on it, then gave it him. Will played a few taps, then ran back to sit next to me. He was so proud of himself. I was so pleased that he was happy. Pedro introduced him to another child, Jumario. We bought Jumario a soda, then the two of them compared shirts and shoes, running around the place until Jumario had to go home. Randy Hart stopped by our table to introduce himself. The Harts are all very self-important because they're related to some singer named Cory Hart, that was a one-hit wonder in the 80's with a song called "Sunglasses At Night". We're not impressed. We gave him a very cold reception.
Tuesday, we went out on the boat again to go fishing. Golf is a good teacher, showing me me how to fish for lean snapper. I caught two, and Will reeled in two himself. He enjoyed it and so did I, but it ended too quickly. We then went over to Stocking Island for a couple of hours. In the evening, we decided to get a pizza ($68.00!) and had Neely pick it up for us.
On Wednesday morning, I woke up and looked over at Will. He was a bronze prince. He was all tanned and clean and muscular. He looked so handsome and self-assured. I am so proud of him...I am so proud to tell people I am his mother...He is the very best thing I ever did.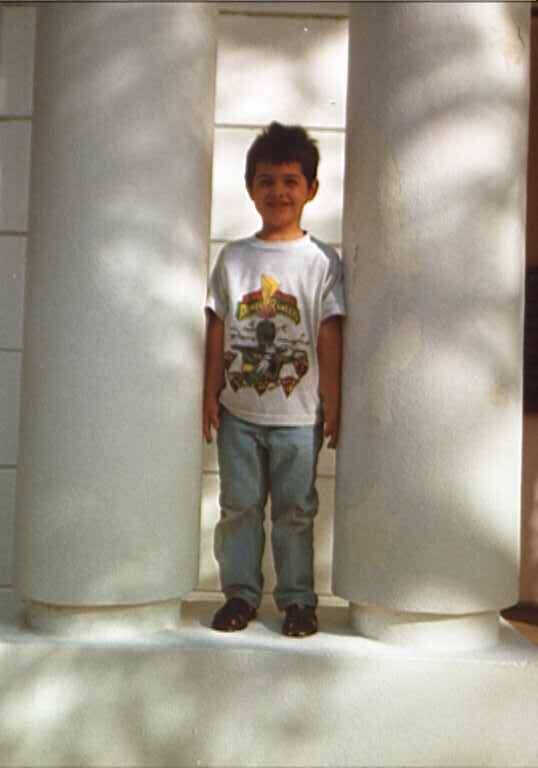 The next day, we packed up all our stuff to head for Nassau. We found out that Peter was not supposed to pick people up at the airport because it takes jobs away from the local taxicab drivers, so we decided to get him into trouble. We called for a cab -- the same guy we always used before -- and told him all about Peter picking people up. When we got to the airport, we sat down across the street at Kermit's Lounge and waited for Peter to show up. When he did ,we watched him drop off his client, then get escorted over to Immigration by a very large black man. When he came out, he was very upset. Mum and I clinked glasses to our excellent adventure in Exuma and looked forward to the next few days in Nassau.