© 1998-2003,
J-E. M. Heydecker. All contents strictly reserved.

Home > Views > Personal History > Details...
Details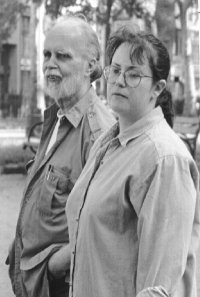 With my hero, my grandfather, Cliff Glynn
(1913-1996). I REALLY miss you.
September 8, 1960-
m. Steven Maurice Nunes January 8, 1984-1994
Jeanne-Elise grew up in Foxborough, MA attending public schools. Summers involved horse camp or additional schooling: Bridgewater State College at age 13 (Project Contemporary Competitiveness Accelerated Studies Program), and Boston Architectural Center at age 14. At age 15, she joined the Rotary Exchange Program and attended Sir J. J. College of Architecture in Bombay, India. After extensive travel in the area, she returned home to finish high school with her class.
Graduation, 1978, Foxborough High School
Upon graduation, she attended the Eastern New Mexico University in Portales, NM, and the School of the Museum of Fine Arts in Boston, MA, majoring in graphic design at both institutions. After a brief stint working with the retarded, she and her soon-to-be husband, Steven Maurice Nunes moved to California in 1982.
At that time, the country was in recession and the past-governor, Ronald Reagan, had closed the institutions in California, so there was no work for people who worked in computers, nor for those working in mental health. After their savings ran out, they lived in their van in some of the nicest parking lots in Palo Alto and Mountain View, suburbs of San Francisco. In spite of their living arrangements, they managed to spend weekends in Carmel and Monterey while looking for work in the San Francisco area. This became a bit stressful, so they moved to Montesano, WA to stay with a Pentacostal reverend and his family. They found work in an institution working with the retarded and emotionally disturbed. They found a small house, bought a second Doberman and sought to build a life for themselves there.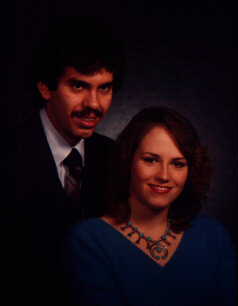 Our Engagement Photo
In February, 1983, they decided to move back to Boston to get married. They loaded up the van, grabbed the two dogs and left the United States. They traveled cross country through Canada, arriving in Vermont two weeks later.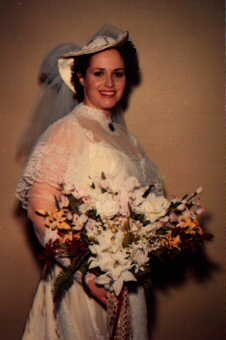 January 8, 1984
They were married on January 8, 1984, and lived in Waltham, MA for 4 years before purchasing a condominium in Nashua, NH. During this time Jeanne-Elise worked with a non-profit arts administration organization coordinating artists and schools in artists-in-residence programs across the state of Massachusetts. Then she decided to continue her graphic arts career and began working at a specialty label distributor as an Art Director, then on to an office products distributor as a Desktop Publishing Specialist.
In 1990, Steve and Jeanne moved back to Waltham, MA, purchasing a center-entrance garrison colonial on Trapelo Road. After that, she began working for a competitor as their Communications Specialist.
In 1992, Jeanne and Steve separated and Jeanne moved back to New Hampshire. During this time, she met Derek Lang, who moved to NH with her. On December 8, 1993, she gave birth to William Creagh Heydecker-Lang. Five months later, Derek was removed from the household due to his extreme alcohol and drug addictions, and Jeanne-Elise continued to raise their son, who is now called William Creagh Heydecker.
When the company she was working for was bought out by OfficeMax, she accepted a position as Communications Director with Semaphore, where she developed international marketing programs to promote object-oriented training and consulting. In 1996, she was let go from her position and remained out of work for seven months. During that time, she lost her home and financial security. She moved back to Foxborough to start over. In January of 1997, she accepted a position as Technical Writer for Telekol Corporation, the makers of voice mail equipment. Five months later, she was promoted to Marketing Communications Manager, where she worked until the company was purchased by Nokia.
In January, 1999, she moved on to become a Product Manager at Tripod, a Lycos Network property and moved to Williamstown, in the Berkshires. It was a horrible place to work and she was absolutely miserable. She used the time there to learn everything she could about dot-coms, web development - especially what NOT to do, and left in August, moving back to Foxborough, accepting a new position as Marketing Communications Manager for MicroE Systems where her main directive was to web-enable all business processes as soon as possible, which she did. During this time, however, Lee Neubecker, whom she'd met at Lycos had kept in touch and he wanted to start a new web design company called BuzzBoltMEDIA.
In July, 2000, he convinced her to move to Chicago to start this new venture with him as Vice President. The stock market had recently taken a real slide, but they were still confident. The company was growing well and they were able to move to a better office space and start hiring staff. Then September 11th occurred and web design customers became few and far between. Eventually the company changed tactics and went into computer forensics and email discovery for lawyers. Jeanne's never been fond of lawyers, so she moved on in 2002.
She currently works for the Indian Prairie School District in Aurora, Illinois as the Director of Web Services managing all web-related projects at one of the largest and best school districts in Illinois. She's very, very happy, and so is her son, glad to finally be staying in one place for a while.
Jeanne-Elise has won a number of awards for her work, including a charter entry in Marquis' Who's Who in Advertising, and a nomination for Young Direct Marketer of the Year in 1990 by the Direct Marketing International Council. In 1978, she received a Certificate of Merit for her youth ambassadorship to India from the Board of Selectmen, making the Heydecker family the only family in town with three members awarded with Merit Certifications in the history of the town. In 1976, Jeanne-Elise was elected American Team Leader of the Darjeeling Multicultural Expedition by the Indian Council for Cultural Relations. In 1975, she was awarded a letter of commendation from the Boston Architectural center acknowledging her as the youngest student to complete the Center Summer's coursework.